Skip to Content
Straighten Your Teeth with Clear Braces
Dental braces with metal brackets and wires have long been the standard treatment option for straightening misaligned teeth. However, the appearance of traditional braces creates cosmetic concerns for some patients, especially adults. No matter your age or bite concerns, Invisalign could be the answer. Find out more about these clear braces to help you decide if they're right for you.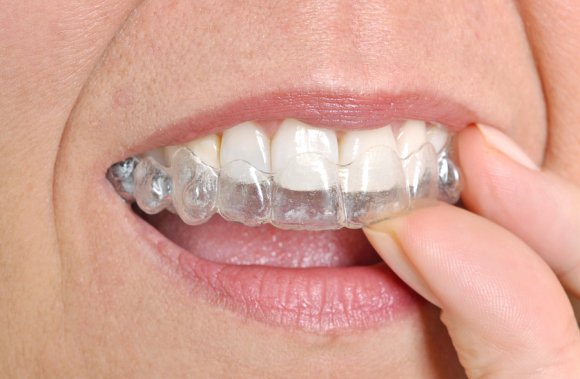 What Is Invisalign?
Invisalign treatment uses comfortable, transparent aligners to gradually shift your teeth into the ideal position. Movement can occur in any direction, including horizontally, vertically, and rotationally to correct most tooth alignment issues using firm, yet gentle precision. Invisalign aligners are made of BPA-free thermoplastic material custom-made with 3D computer imaging to fit your teeth. Thanks to this technology, you'll know exactly what your smile will look like at the end of your teeth alignment journey.
Invisalign puts you in control of your smile. Instead of visiting the orthodontist frequently to have wires tightened, you simply pop in new aligners every week or two until treatment is complete. As long as you wear your aligners for at least 20 to 22 hours a day, you may expect to complete the process in as little as nine to 15 months. Each new set of aligners moves your teeth ever so slightly based on carefully mapped out changes to ensure a comfortable bite throughout the entire process.
Benefits of Invisalign
Four million patients worldwide have chosen to straighten their teeth using Invisalign. Still, with traditional braces as the standard option, why should you choose Invisalign? The benefits are clear:
Smile with confidence during treatment: Since they're virtually invisible, your friends might not even know you're wearing your aligners unless you tell them. Plus, you can remove them for the most up-close social settings—such as weddings and job interviews—to ensure maximum confidence. Just remember to wear your aligners as much as possible every day to avoid delaying the results.
Easily maintain a healthy mouth: Invisalign aligners are not bonded to your teeth, so you can remove them during your daily oral care routine. There's no need to fuss with brushing around pesky brackets or threading floss under annoying wires. This is a great benefit for adults and teens alike who hope to avoid tooth decay and cavities during the teeth-straightening process.
Continue eating your favorite foods: The aligners can also be taken out during mealtimes. This means there's no risk of getting food caught in a bracket or accidentally damaging your braces. As a result, Invisalign patients are allowed to indulge in food that is strictly prohibited for people wearing traditional braces, including gum, chewy or hard candy, corn-on-the-cob, popcorn, nuts, and more. Of course, a diet low in added sugar and high in fruits, vegetables, and low-fat dairy is recommended for everyone to maintain strong, healthy teeth.
Avoid irritating your mouth: The brackets and wires of traditional dental braces can cause painful irritation and sores. If you are hit in the mouth while playing sports, the damage can be particularly severe. On the other hand, Invisalign is completely smooth and form-fitting to your teeth for maximum comfort.
Spend less time at the dentist's office: Without the need to adjust wires, there are fewer visits to the orthodontist when you choose Invisalign. Appointments every six weeks or so are all you need to ensure your treatment is progressing as planned.
Schedule a Free Invisalign Consultation
If your smile doesn't have the positive impact you want, contact Smiles @ Southcenter to schedule an Invisalign consultation with our orthodontist in Tukwila, WA. We'll assess your teeth-alignment needs and determine if you're a candidate for Invisalign. We offer a wide range of orthodontic treatments, so we're confident we can help you, no matter how you choose to straighten your smile!