Skip to Content
Dental Fillings Dentist in Tukwila
Say Goodbye to Silver Fillings
Years ago, silver amalgam was the material most often used to restore decayed portions of your teeth, especially back teeth. Unfortunately, silver fillings can really darken a smile, and amalgam, by its very nature, can cause damage to your tooth in the long run.
Amalgam fillings absorb moisture and expand and contract with heat and cold. So, as the filling ages, it can fracture your tooth; we'll then need to place a crown on your tooth to save it. Silver fillings often undergo metal fatigue, corroding and leaking over time. This destroys the protective seal of the filling and allows new decay to invade the tooth. This leakage can also give a gray appearance to the entire tooth.
New Technology for Natural-Looking Fillings
Dental research has resulted in the development of tooth-colored filling materials that are not only durable and long-lasting, but attractive as well. Composite resins provide an attractive, natural look while at the same time restoring strength and durability to your tooth.
Composite resins can be placed directly into the tooth in a single appointment. They work well to restore a tooth when only a small amount of tooth structure has been lost.
When a tooth has suffered more extensive damage, there may not be enough structure remaining to hold a filling in place without the risk of breaking the tooth. In these situations, a crown is a much better treatment option.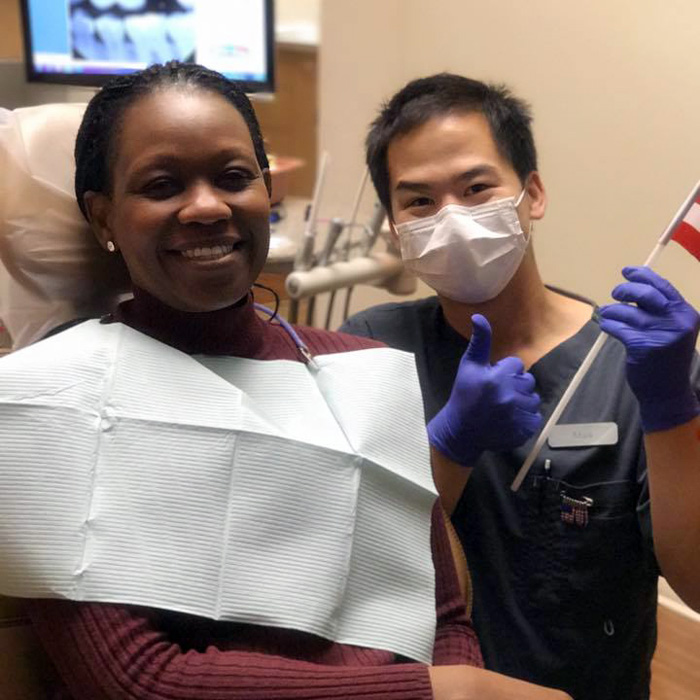 Why Choose Smiles @ Southcenter?
Whether you are coming in for dental fillings, a routine dental cleaning, or full-mouth restoration, our team at Smiles @ Southcenter wants to make sure you and your family have an exceptional visit. Here are a few reasons patients keep coming back for years.
We put your comfort first – blankets, dark glasses, and IV-conscious sedation are ways we help you feel at ease
Over 30 years of dental care experience in Tukwila
Super modern and clean space
From check-in to check-out we are focused on your health and care
We treat you and your family like our own
We have over 300 Google reviews and a 4.9 star-rating – check out what our patients have to say about their experience.
No Dental Insurance? No Worries.
Enroll in S@S Dental Plan. A dental plan that cuts cost, not convenience. Join today, you'll be glad you did!
An in-house membership plan for families and individuals that allows members to receive dental services at significantly reduced fees with coverage that starts right away.
Start with the Small Stuff to Avoid the Big Stuff
If you are thinking of delaying treatment, you should know that decay will never go away on its own.
It grows slowly while it's still in the hard enamel, but if decay is allowed to reach the softer inner dentin, it grows much more quickly, allowing bacteria to infect the pulp chamber of the tooth. If this happens you may experience a toothache. A tooth with an infected pulp chamber can only be saved with root canal therapy. That's one of the reason we recommend treating a tooth as soon as possible.
Patient Testimonials
I have been going to Smiles at Southcenter for over 10 years. Extremely well run by a staff that is always smiling and positive. The location is perfect and easy to get to. Our dentist, Doreen, is absolutely amazing! She is so nice and gentle. She replaced all of my metal fillings a few years ago. The fillings are still in perfect condition. Our dental hygienist (Shelly) of over ten years is amazing too! My teeth are so clean at the end our appointment. I could not recommend Smiles@Southcenter enough. We Love Doreen and Shelly. They make the experience!!
I've been a client since 1999 and have always received first class treatment. Jenny does a thorough cleaning and Dr. Nguyen has never missed with crowns, fillings and other dentist stuff. Margaret at the counter always makes sure my account charges are correct. And they are only part of the full service team. Great job, everyone!
My family and I have been going to Smiles for 5 to 6 years now! We experience top-notch dental care! I have 2 teens that are going through orthodontic treatment! They are excited about the process and end results that are coming. I recommend Smiles @ Southcenter to anyone looking for a dental HOME!
In all my years of going to dental practices, I never before had the care that I'm experiencing today at Smiles. They truly care about my well-being and my finances! The blankets to calm my fears and keep me cozy are just one of the gestures. Thank you Bianca, Jen, Margaret and Dr. Miller and Rosetto. Seek the dentists who care about you how you are outside of your visit, it makes all the difference!