Skip to Content
Our No-Pain Dentistry Promise!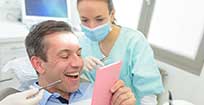 [updated August 2019]
Here at Smiles@Southcenter in Renton, WA, we understand that our patients often come to us after years of not seeing a dentist.
Why do we see people who have avoided the dentist for years?
Often, they've had a traumatic dental experience and they've developed dental anxieties or even phobias. We're on a mission to put an end to patient anxiety. With our no-pain dentistry promise, our patients can learn to relax in the exam room and have a positive experience. It's our goal to make you smile—and to help you enjoy your smile.
Dental fear is real, with previous studies suggesting it affects up to 25% of the common population. This dental phobia is keeping people from receiving routine dental care and potentially putting them at risk of compromising the health of their mouth and smile. The good news is that there are many medications and techniques used alone or in combination to reduce or eliminate pain and control anxiety during dental procedures.
No-Pain Sedation Dentistry
At Smiles@Southcenter, we offer IV conscious sedation to help patients alleviate dental anxiety and stress so they can get the dental treatments they need. Unlike many dental offices, which only offer IV sedation dentistry on select days each month, our team can offer IV sedation dentistry at any time because of the licensed sedation dentists we have on staff. This sedation will help you to relax from the time your procedure begins right through to the end of your treatment. This way you'll leave with a beautiful smile and healthier teeth, and not with memories of any discomfort along the way.
Our team is committed to supporting open communication with our patients. Let us know how we can help you, whether you need more local anesthetic to get thoroughly numb or you need a break to rest your jaw. We want all of our patients to be comfortable during their dental treatments and not avoid getting necessary check-ups and dental treatments done due to anxiety and fear.
Be sure to ask us about conscious sedation. We are licensed to administer FDA-approved, safety-tested medications to induce a heightened state of relaxation. With sedation dentistry, our patients can enjoy a completely comfortable experience—free of pain and anxiety.
About the Author – Dr. Thuy Nguyen, DDS
Dr. Thuy Nguyen DDS in Tukwila, WA holds a Bachelor of Science in Microbiology and received a Doctorate of Dental Surgery from the University of Washington. In 2011, she also completed the Progressive Orthodontic Program. She is known for her fine work and a friendly and caring attitude. Her enthusiasm for dentistry is contagious, as she designs and improves smile after smile. Dr. Nguyen is bilingual in English and Vietnamese. She maintains memberships to the Seattle King County Dental Association, The Washington State Dental Association, and The American Dental Association.
References: